【Urgent Appeal: ACT NOW】
People's Mask: Support production of cloth masks in developing countries and protection for local communities from COVID-19

While the current global pandemic severely hits European countries and the United States, we are also concerned about that the situation in developing countries, which lack sufficient medical equipment and generally have a dense population, will be more devastating. Medical-grade equipment is in short supply across the globe and priority of that should be given to hospitals. The Centers for Disease Control and Prevention (CDC) recommends that the general public should wear cloth masks to reduce the transmission of COVID-19. Meanwhile, the supply of raw materials for medical-grade masks is tight, and the standards for production facilities and quality are relatively high. It may probably not be a solution that can be done shortly.

At the same time, many of the communities we work with in the developing countries have the sewing tools and skills ready. Under these circumstances, we have encouraged partners in different countries all over the world to produce "People's Mask", a cloth mask in which tissue paper can be inserted as a middle layer filter to protect themselves and their communities from being infected.

Feedbacks from producers are positive, and some have started planning for the production.
We appeal for a financial donation to support mass production of People's Mask in various developing countries through the network of World Fair Trade Organization (WFTO) and enable them to distribute reusable cloth masks to local communities that are in need. The initiative can also provide a fair and sustainable income for the mask makers who are affected by the pandemic.

Everyone has a Mask for protection!

To support or enquire, please contact us, thank you!

Anthony
Fair Circle


PEOPLE'S MASK PROGRESS

>>(Click Here)


Notes:
1. The approximate average cost of a single cloth mask ( People's Mask ) is HK$6 .We will give two cloth masks to each target beneficiary. Every donation of HK$12 can help support one beneficiary.
2. Currently, our target countries for production and distribution of People's Mask Project are Bangladesh, Nepal and India.
3. The initial production quantity is about 50,000 masks. 10,000 masks will be produced for 5,000 people in the first stage. Total donation target: HK$300,000
4. All donation will be sent to the fair trade organizations of the respective countries to execute the production and distribution of People's Mask.
5. Fair Circle is a social enterprise set up in 2005 in Hong Kong. Donation to Fair Circle cannot claim tax deduction.
6. "People's Mask" references the mask study by the University of Hong Kong-Shenzhen Hospital and Consumer Council and the concept of HK Mask. HK Mask is designed by Dr. K. Kwong and his team Sew on Studio. People's Mask has no relation with any of the above mentioned institutions, Dr. K. Kwong and his team. We appreciate their sharing of the study and the concept of cloth mask with the general public.




DONATION METHODS.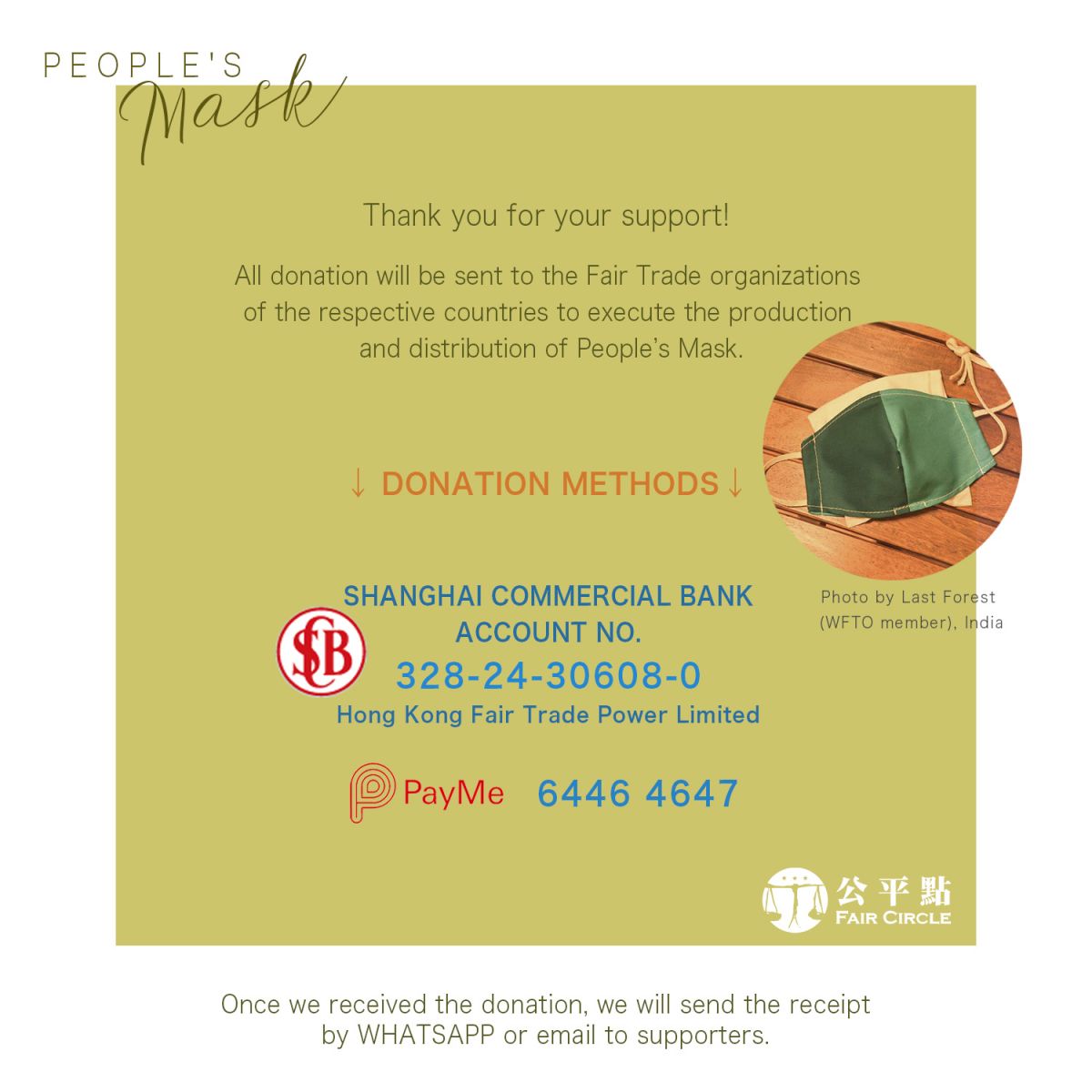 1. Deposit to our account: Shanghai Commercial Bank account 328-24-30608-0 (Hong Kong Fair Trade Power Ltd), then fax or email the pay-in-slip to us.(or Print-screen for online transfer)
*如其他銀行用戶,可透過網上銀行(包括轉數快)轉賬。首次轉賬需先在收款人欄新增 Hong Kong Fair Trade Power Limited,選取 025「上海商業銀行」及輸入戶口號碼 328-24-30608-0。待銀行確認後,再於轉賬欄選取 Hong Kong Fair Trade Power Limited 及輸入正確金額 。

2.Crossed cheque payable to "Hong Kong Fair Trade Power Limited" and mail to our office:
Room 2803, EW International Tower, 120 Texaco Road, Tsuen Wan, Hong Kong
3.Payme : +852 64464647, Account name: CHIU S** W***
Please print-screen the transfer for our reference.

我們在確定收到款項後,會稍後將收據以電郵或 whatsapp 給支持者。

Please Like and Share

People's Mask Facebook page

for more updates.